Paper Industry
Slitters
Slitters for longitudinal cutting of paper web, foil, packaging, etc.
Our slitters are made of chromium alloyed steel, HSS, ASP (powder metallurgical steel) or tungsten carbide.
Every required outside diameter of 20-300 mm – with the corresponded inside diameter, thickness, chamfer, keyway and bores – can be provided.
Hollow feather blades are also available with longer chamfer.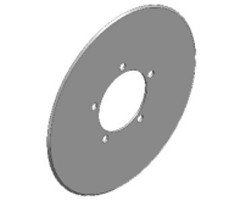 Anvils with Carbide Inlay
Our anvils can be made of chromium alloyed steel, HSS, powder metallurgical steel or tungsten carbide.
All our anvils are expertly hardened and produced on cnc grinding machines of highest progression. Your advantages are the drastically reduced down times and an increasing of productivity.